Our newly overhauled website just went live this week at
http://adrianakraft.com
! I hope you'll stop by and check out the stunning new graphics by

Jinger Heaston

and the fabulous web design by
Lucy Felthouse
, who has been wonderful to work with. Hang out awhile, stop by our re-vamped Books page, leave a comment for today's guestblogger, and pay a visit to some of our links – you'll be glad you did! While you're at it, I'd love if you'd Like our FaceBook page and give us some Karma,too. You can find the links in our new sidebars.
NEW NEWSLETTER AND CONTEST
We've set up a new Mail Chimp Newsletter – if you'd like to keep getting news from Adriana, you'll need to go to our website and scroll down the homepage sidebar to the sign up form. To sweeten the deal, I'll hold a drawing March 31 for a $20 All Romance Ebooks gift certificate – but you must sign up by March 31 to be entered. Hope you'll migrate to the new Newsletter – we wouldn't want to lose you!
We've been giving this one a lot of thought. I've had fun with our sexy legs avi for the last three years (and I'm all for sexy legs). But we wanted an avi that conveys right up front that there are two of us behind the erotic world we create for our readers. Another author directed us to a website where we could craft our own headshots and we put these together. Actually they look a lot like us!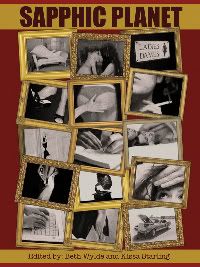 We're members of the Lesbian Fiction author group
Sapphic Planet
, where editors Beth Wylde and Kissa Starling have been working hard to put together this amazing collection of nineteen erotic lesbian stories. It released in EBook last week and will come out in print March 1. Our short story "Accidental Contact" is one of them ~ here's the
Amazon
buy link and our story blurb:
"Accidental Contact" is a lesbian cougar story. Natalie and the much younger Bridgette are real estate agents who've often traveled together for business seminars. Now they're snowbound in New York City in a hotel room with only one bed. Will Natalie dare to make her move?