Time to revisit one of my favorite topics: male nudity in films.
I recently spent a pleasant Christmas holiday with one of my favorite people, author Cat Grant. I must admit that our choice of Blu-Ray films to watch might have been influenced by the degree of male nudity. At least we have the excuse "it's part of our job" of writing gay erotic romance.
Cat, about Velvet Goldmine: "Ewan MacGregor jumps around completely naked."
Me: "That's up next, then."
Ewan didn't disappoint. In fact, I'm not sure he's been in a film where he didn't show it all off.
We may also have paused and replayed scenes of other films with VPL, but let's get back on topic...
There's a film I can't wait to see: Magic Mike, with some of Hollywood's hunkiest actors playing male strippers (Joe Manganello, Matt Bomer, Alex Pettyfer and Channing Tatum). Of course, that's not likely to have anyone take it all off, which is a damn shame.
What do you think of male nudity in films? After seeing so many breasts, I'd like to see way more dicks in flicks than we usually get in the US.
I'm asking in the name of research. I'm not talking about porn films, because we expect it, but about mainstream films that aren't necessarily about sex, or
just
about sex.
In the US, there isn't much of it. I recall the furor over "naked" Richard Gere when
American Gigolo
came out (oops, I may be giving away my generation here), then being pretty damn disappointed. All that over practically nothing, yet it was such a big deal at the time!
In Europe, you can find a lot more penises in films, in scenes were nudity is natural or makes sense, and not for the shock or comedy factor that it's often used in American films. Shame on films like Bruno and Borat that use it to make everyone uncomfortable.
Naked men should be sexy!!
Why all the fuss? We've had naked women in films for decades, showing off their assets, bouncing around and luring straight men into movie theatres. But the double standard continues for men.
Playgirl magazine never had the success of Playboy? Is it because women don't like looking
at naked guys, or they won't admit it? Or they're too afraid to buy the mag?
Did anyone else notice the irony that in
The Full Monty
we never actually get to see the full monty? In
Watchmen
, we have Dr. Manhattan and his bouncing blue bits, and that got plenty of backlash. Why? Probably because it didn't really fit into the rest of the film. Sure it makes sense in some of the scenes, but overall to me it should have been an all-or-nothing issue. Either he's always naked or he never is. The way it was done negated the value of his nudity.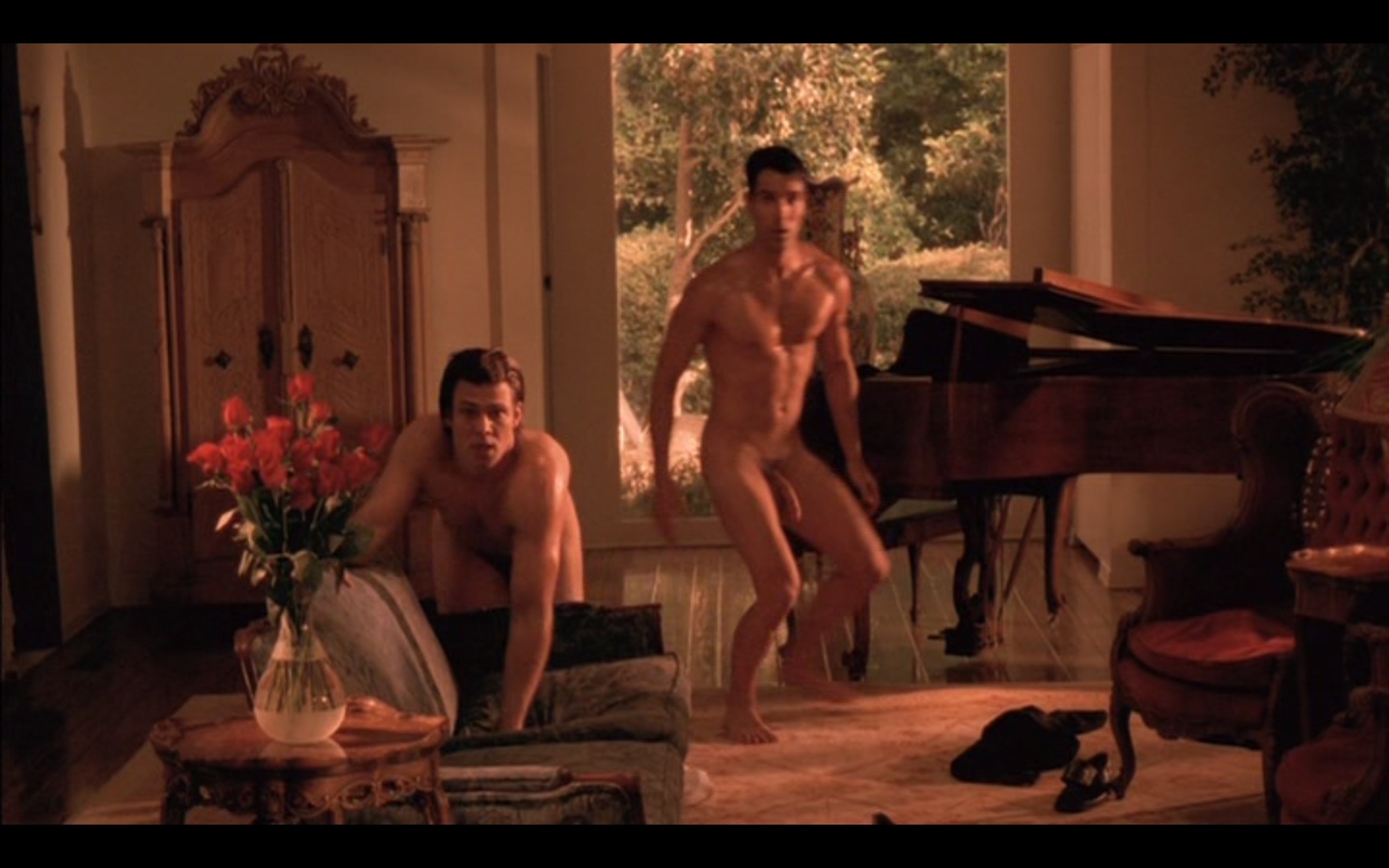 Remember Dante's Cove, that gay/paranormal Canadian TV show that was so cheesy, but made up for it with plenty of dicks in season one? Then they cut way back on the nudity. What was up ( or not) with that?



What are the best recent films to find some good-looking nude men?
Feel free to post a link to a screen shot if you want.
I'd definitely like to hear from the guys out there as well, what you think of the double standard? Are gay men tired of seeing boobs and not dicks in mainstream films? Are straight guys worried their ladies might start comparing you to the guy in the film? It's not like we haven't seen other dicks!
EM Lynley writes gay erotic romance. Her latest release is "A Christmas Bonus" available from Amazon, All Romance eBooks and Ravenous Romance. Read an excerpt. Visit her online at emlynley.com or on Facebook.
Alec Compton's dream job at a Wall Street investment firm is on the line if he can't close a make-or-break takeover deal by the end of the year.

The buyer is none other than world-renowned billionaire and corporate raider Brant Linton, recently named one of the hottest and most eligible gay businessmen. Electricity crackles at their first meeting, and Alec's thoughts drift far from business, despite his distaste for Brant's business practices.

When Brant takes off early to spend Christmas with his sister's family on the exclusive French Polynesian island of Taha'a, Alec has no choice but to follow if he wants to get Brant to sign on the dotted line. But Brant's sister has forbidden him from conducting business during the holidays and Alec must masquerade as Brant's boyfriend.

Then business turns into pleasure, but neither Brant nor Alec know whether the other is there for the deal, or for something more personal in EM Lynley's sizzling holiday novella A CHRISTMAS BONUS.