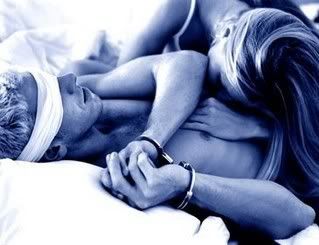 I had started a discussion in a sex forum a few months back that really took off, and I wanted to ask the same question here.
What are your most inappropriate sex fantasies? Tell me about your sex fantasies that pop into your head, often when you're trying to get off, and you asked yourself "where the fuck did
that
come from??!?"
I have plenty of inappropriate sex fantasies, and I could spend all day talking about them, but I chose one in particular since it's such a kinky guilty pleasure for me.
I breastfed my son when he was a baby, and when I was nursing, my tits were
huge
. We're talking twin Hindenbergs here. I didn't often let down milk and my tits stayed high and firm, so I sometimes went without my nursing bra. Trust me, in mid summer with huge tits unencumbered by a bra, I caught some stares. I recall one incident when I was taking my son in his stroller around the State Fair. We were in the cattle house, and seeing all those udders and teats made me feel a bit like a cow myself. Watching calves nurse made me let down a little of my own milk, so I had to feed my son before my tank top became drenched. So, I sat on a bench, pulled him out of his stroller, and lifted my tank top.
That's when I caught the guy across the walkway from me staring at me, sitting next to his girlfriend or wife, and his gaze was fastened on my engorged tits. He was flushed and excited, squirming on his bench, and seeing him in such an obvious state of erotic distress turned me on no end. I smiled warmly at him, and he smiled back, briefly moving his gaze from my tits to my face in greeting, but in seconds his attention was back on my tits again. I arched my back, making my tits bounce a little, and I thought he was going to fall over. Girlfriend/wife was still oblivious. I loved the attention.
I had a fantasy of letting a roomful of strange men drink my milk from my breasts while they beat off in front of me. I read a similar scenario in the book "The White Hotel" by D. M. Thomas. I imagined the types of men who would suck - scientists who needed a break from their lab work, old men who hadn't had sex with their wives in years, frat boys who never had a real woman, conservative family-valued type middle aged married men who spouted Bible verses by day and engaged in kinky sex at night (and not with their wives), college professors who couldn't resist a little earthy pleasure ... you get the idea.
I continue to have that fantasy to this day. Another fantasy I have involves two men I met when I worked as a union stagehand. Nothing ever happened between us, but I played out my fantasy in my new m/m, m/m/f, werewolf erotic novella "Feral Heat".
Just go to this link
to get the book and see why it's Romance Divine's #1 bestseller at AllRomanceEBooks.
So, let's hear from you. What are your most inappropriate sex fantasies? Tell me about them in comments.